In Kyoto, where history permeates everything, a restaurant or bar might not be considered a true "old-established" even after 50 years of operation, given the city's rich history.
However, considering the nationwide perspective, running a food and beverage establishment for half a century is a remarkable feat.
This time, we will focus on food and beverage establishments that have thrived for over 50 years in the heart of Kyoto. The author will introduce their recommended spots for daytime drinks and sake enjoyment.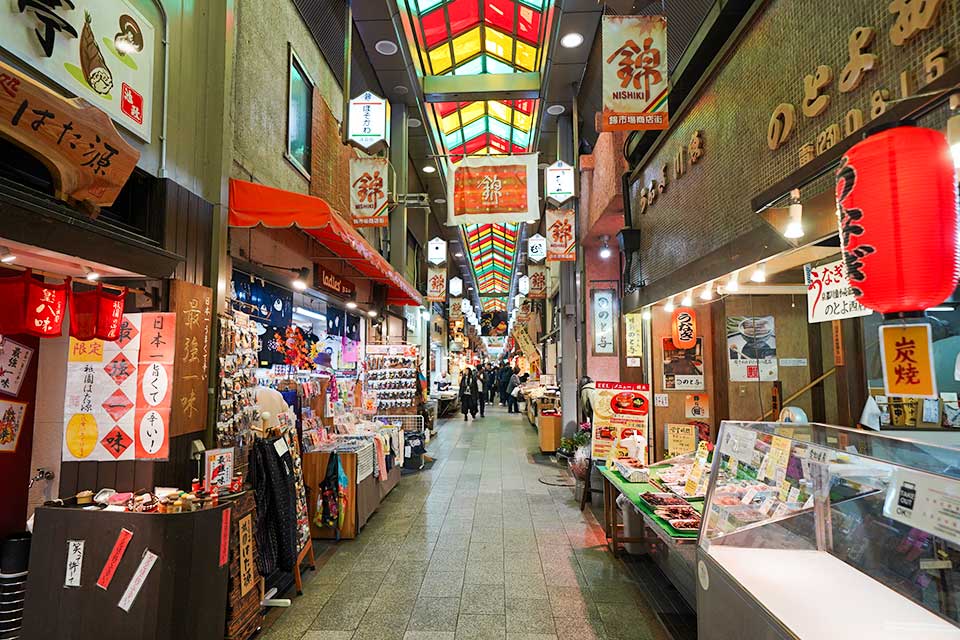 When it comes to dining in Kyoto, one might envision traditional Japanese dishes like obanzai or kaiseki cuisine. However, the local gathering spots go beyond expectations, offering a delightful fusion of Japanese and Western influences with a wide variety of dishes.
Moreover, many of these places are known for their friendly atmosphere and affordable prices.
While in Kyoto, why not immerse yourself in the city's ambiance by enjoying the culinary delights of these local establishments that are deeply woven into the fabric of everyday life?
1,"Kyogoku Stand" in Shijo-Kawaramachi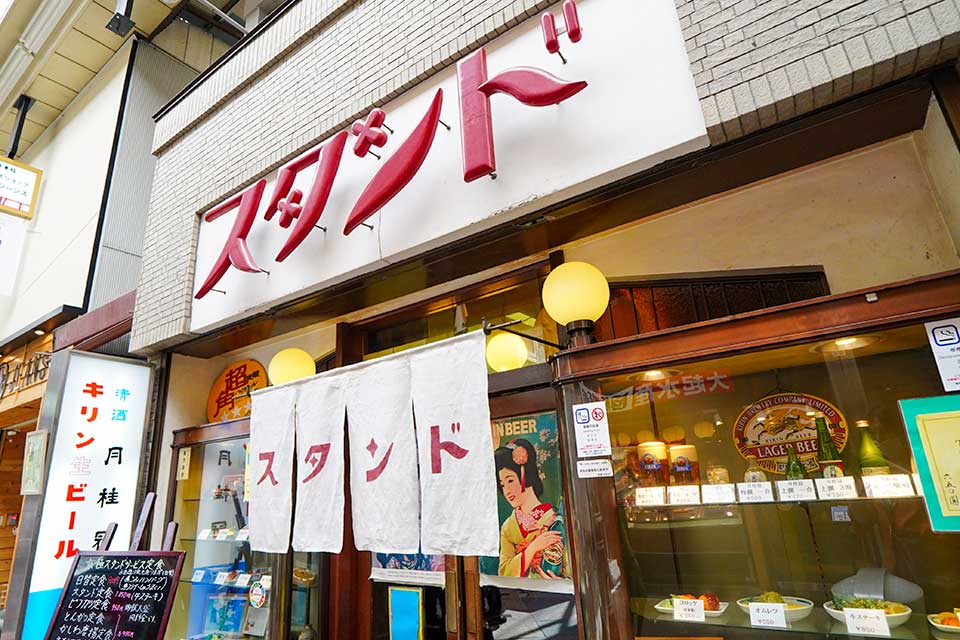 If you are featuring a special on "Daytime Drinking in Kyoto," you must start with "Kyogoku Stand." It's a renowned establishment in Kyoto and a popular spot for the theme. Located in Shinkyogoku, a shopping street near Shijo-Kawaramachi, it attracts many tourists due to its excellent location, but the local regulars are still the mainstay of the place.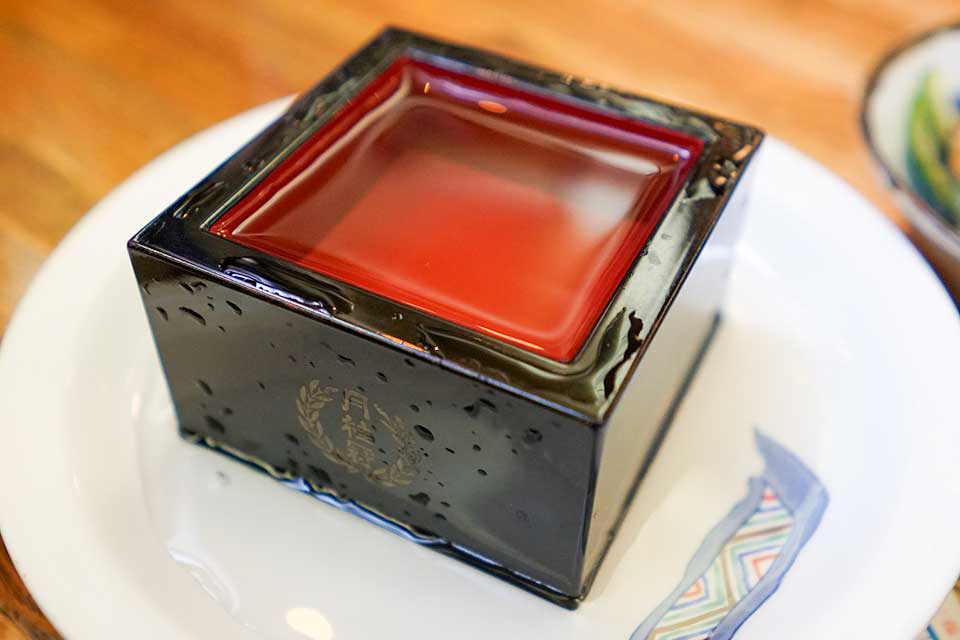 Founded in 1927 the restaurant continues to operate in the original building, maintaining a strong 20th century-era ambiance. The interior retains the atmosphere of old Kyoto, providing a space where you can immerse yourself in the history of the city in a different way from temples and shrines.
Since the time when draft beer was still a precious commodity, Kyogoku Stand has been serving Kirin beer, making it a special place for Kirin beer enthusiasts as well. As for sake, they have maintained a longstanding relationship with "Gekkeikan," a famous brand since their inception.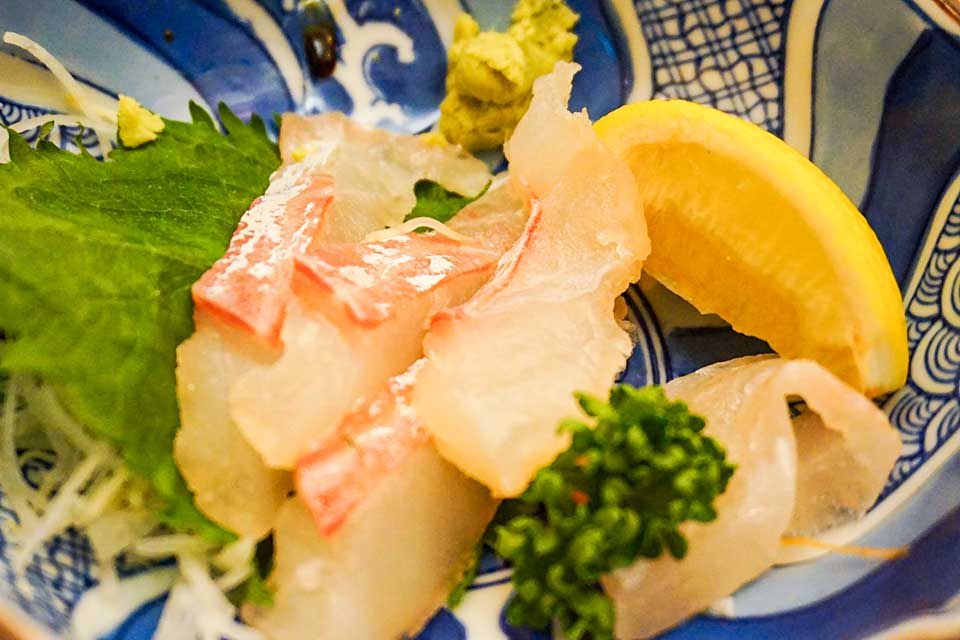 The interior of the restaurant is long and narrow, with a straight, marble-made communal table stretching along the back. Customers sit facing each other, sharing the same table, creating a cozy and comfortable atmosphere. Strangers come together to enjoy their drinks, but as it's a space where bar enthusiasts gather, it surprisingly feels welcoming.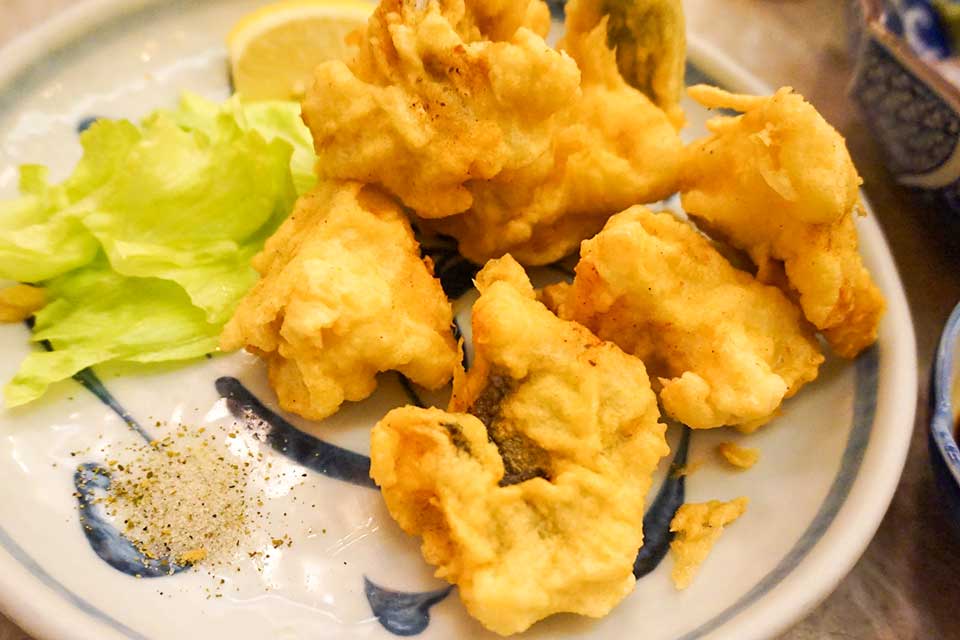 The menu offers a wide variety of dishes, ranging from Chinese cuisine to sashimi, fry dishes, and beef steak. For a taste of the Kansai region, I recommend their red snapper sashimi, summer pike conger, and winter kasu-jiru (sake lees soup).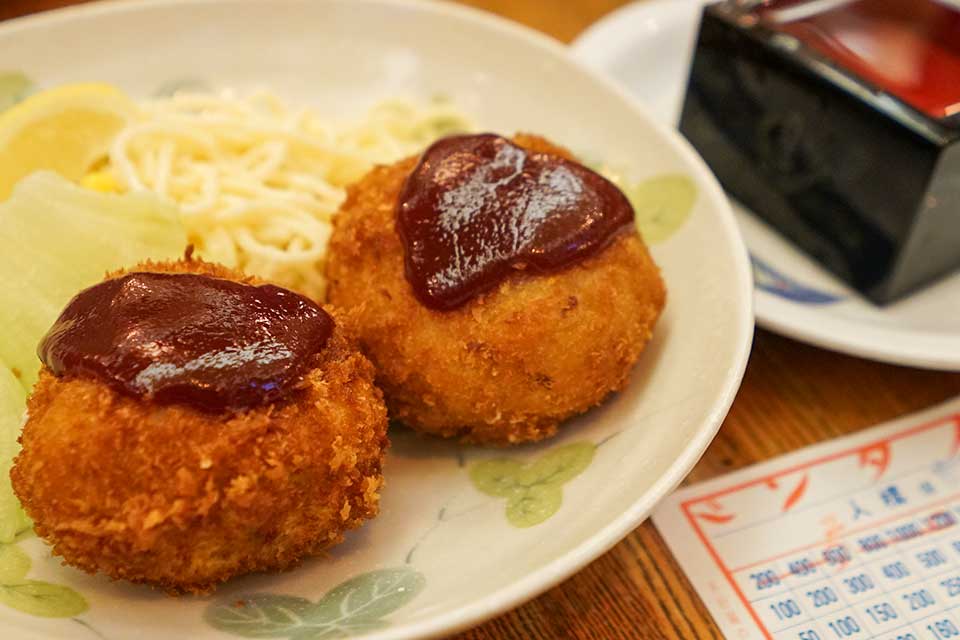 Their homemade croquettes are also a popular choice. They are round, crispy on the outside, and fluffy on the inside. The unique demi-glace sauce of the restaurant enhances the flavor and makes them irresistible.
If you're having your first daytime drink experience in Kyoto, I believe Kyogoku Stand is the perfect place to start. As you get used to the atmosphere, you might become curious to explore other places as well.
Address: 546 Nakanocho, Shinkyogoku Street, Nijo Agaru, Nakagyo-ku, Kyoto, Kyoto Prefecture, Japan
Opening Hours: 12:00 PM to 9:15 PM (Last Order at 8:45 PM)
Open on Sundays
Closed on Tuesdays
Established in 1927
2,"Tatsumi"in Shijo-Kawaramachi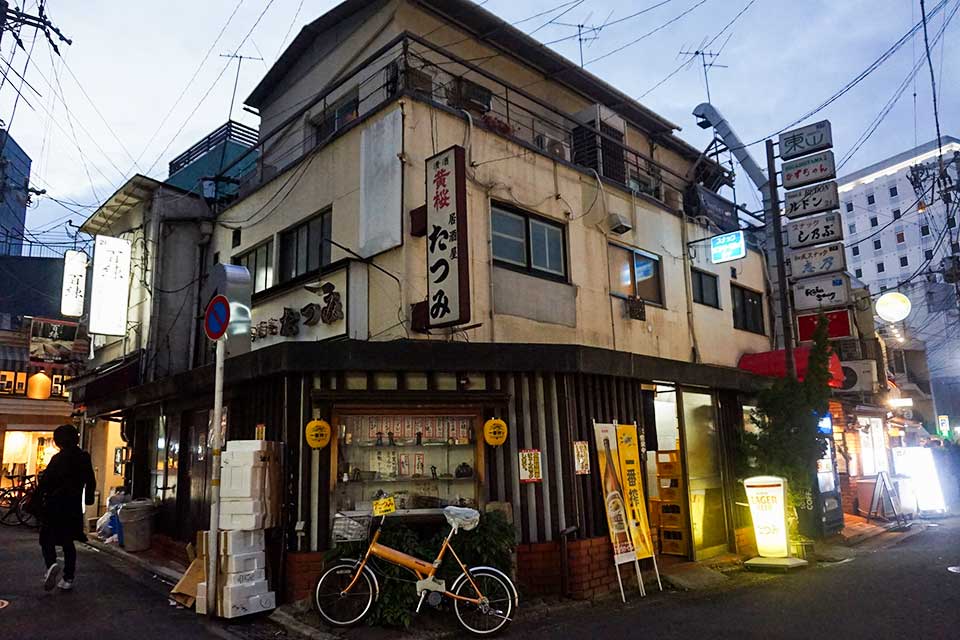 Just like Kyogoku Stand, "Tatsumi" is another representative izakaya in Kyoto, offering reliable daytime drinking options. Located in the lively Shinkyogoku shopping street near Shijo Kawaramachi, this place may have a somewhat mysterious appearance, but it is a highly convenient spot, just behind "Kawaramachi OPA," directly connected to the Kyoto Kawaramachi Station.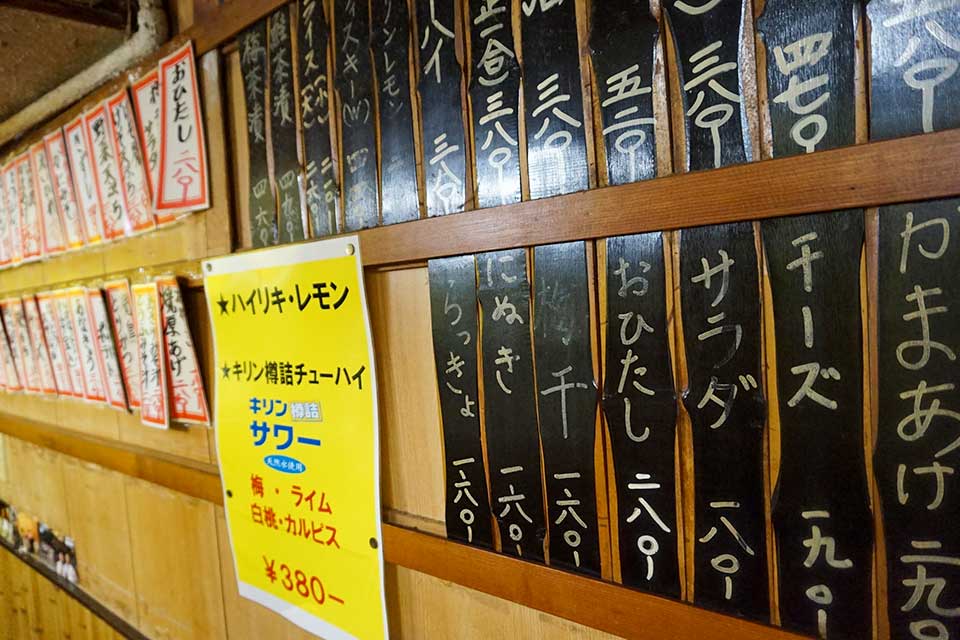 Established in 1968, Tatsumi started as a standing bar proudly displaying the banner of "Mancho," a local sake brewed by Fushimi's Fujioka Sake Brewery. According to regulars who have been there since its opening, the menu used to consist only of "dote-yaki" (grilled pork tripe) and "kushikatsu" (deep-fried skewers).
Over time, both the drink and food offerings expanded, and they added table seating and raised platforms in addition to standing spaces, transforming into the current izakaya that caters to both standing and seated customers.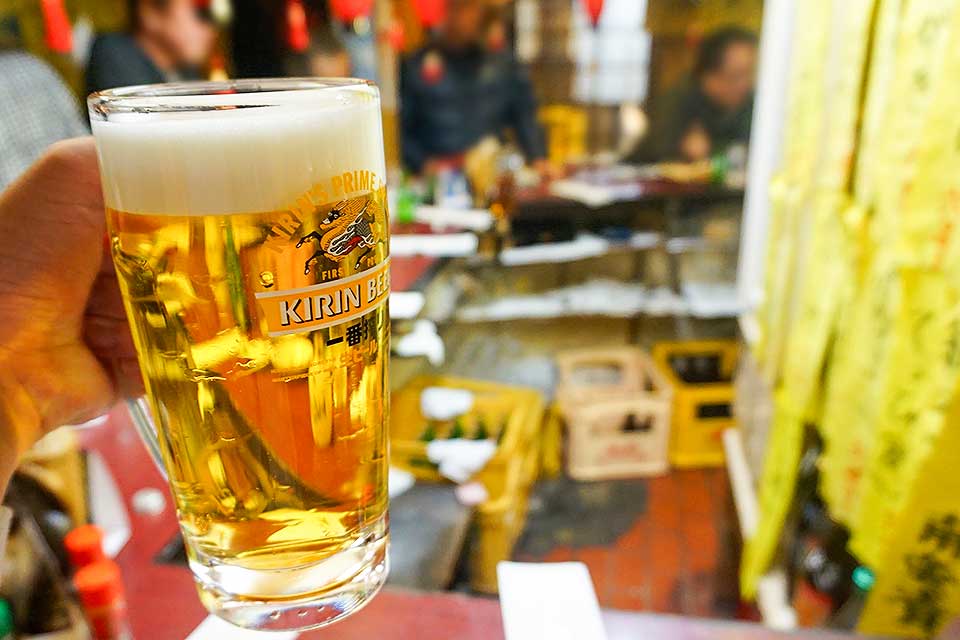 This renowned establishment is a favorite among izakaya enthusiasts from all over the country, yet the prices are surprisingly reasonable. The clientele consists mainly of local veterans who come dressed in casual attire.
Being in Kyoto, there's no need to feel nervous; you can relax and immerse yourself in the ambiance of the place while enjoying your drinks!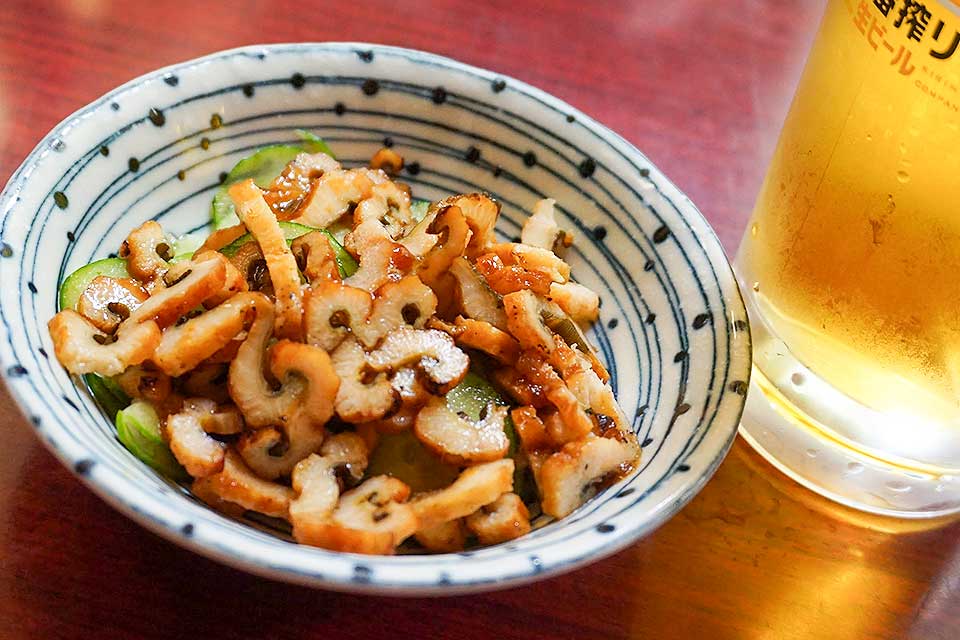 Their signature dishes, "dote-yaki" and "kushikatsu," have been on the menu since its founding and remain popular to this day. However, I also highly recommend their sashimi, "teppi," and "kizushi" – their seafood dishes are outstanding.
Address: 572 Nakanocho, Ura-Teramachi Street, Nijo Agaru, Nakagyo-ku, Kyoto, Kyoto Prefecture, Japan
Opening Hours: 12:00 PM to 10:00 PM (For Standing and Counter Service)
Open on Sundays
Closed on Thursdays
Established in 1968
3,"Beer Restaurant Munich" in Shijo-Kawaramachi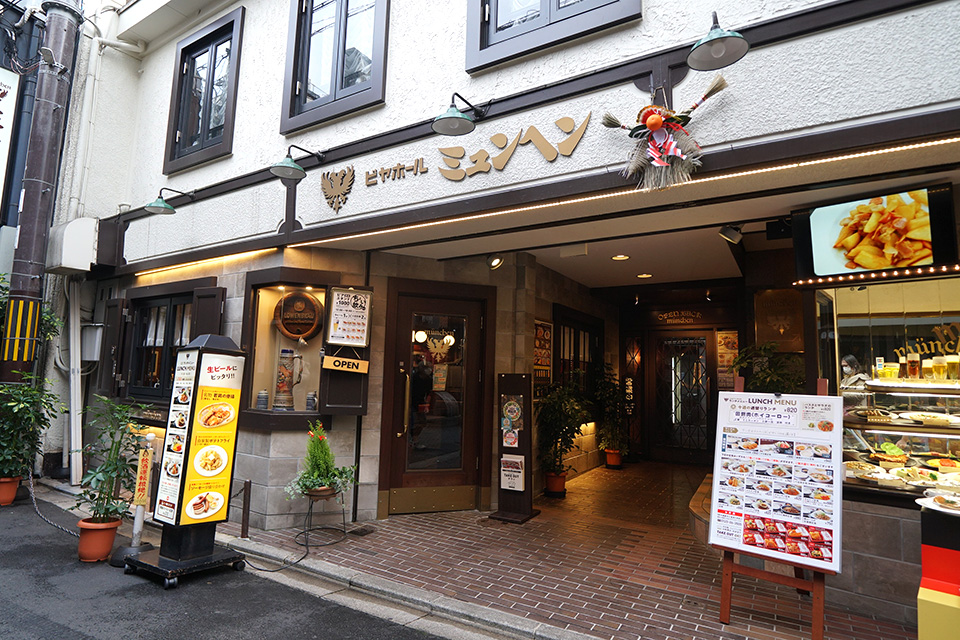 Located in Shijo Kawaramachi, "Beerestaurant Munich" is a historic beer hall that has been in business for 70 years, making it an essential spot to introduce for daytime drinking in Kyoto.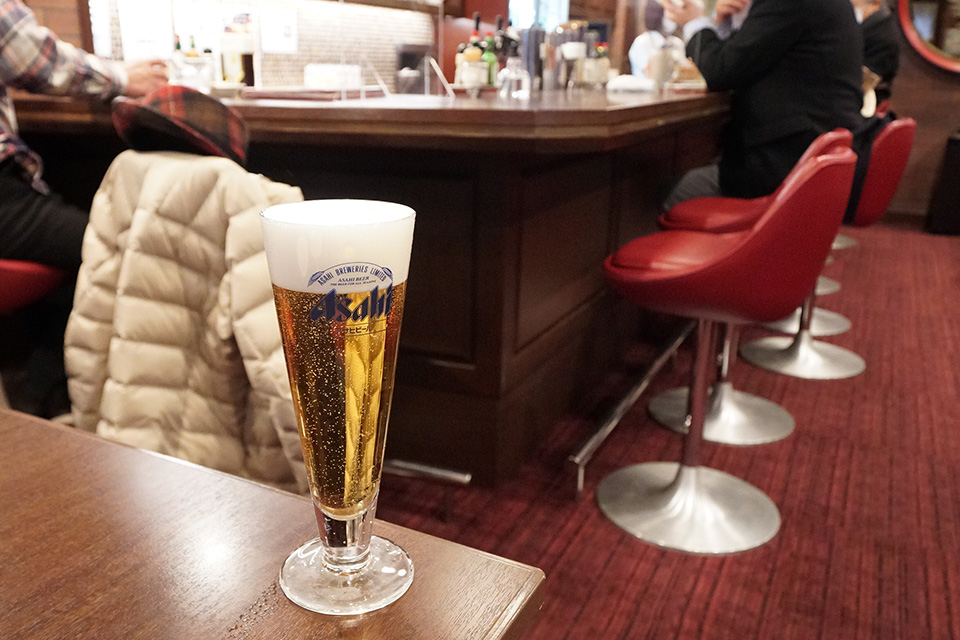 With its retro and nostalgic atmosphere reminiscent of the 20th century era, this place offers Asahi draft beer (Maruef) and Asahi Black draft beer, poured with great care, giving you a sense of becoming more mature as you enjoy your drinks.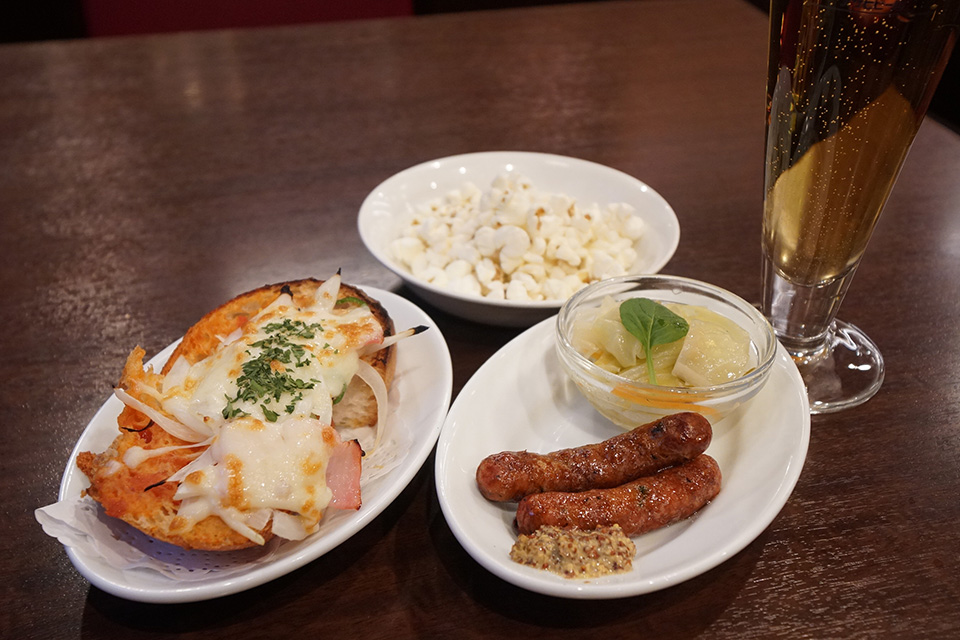 Their specialty is the lightly seasoned and endlessly enjoyable fried chicken (karaage), but they also have a variety of classic beer hall appetizers available.
Address: East entrance of Ichisujime, Kawaramachi Street, Nijo Agaru, Nakagyo-ku, Kyoto, Kyoto Prefecture, Japan
Opening Hours: 11:30 AM to 11:00 PM (Open almost every day)
Established in 1952
4,"Honke Tagoto" in Teramachi Sanjo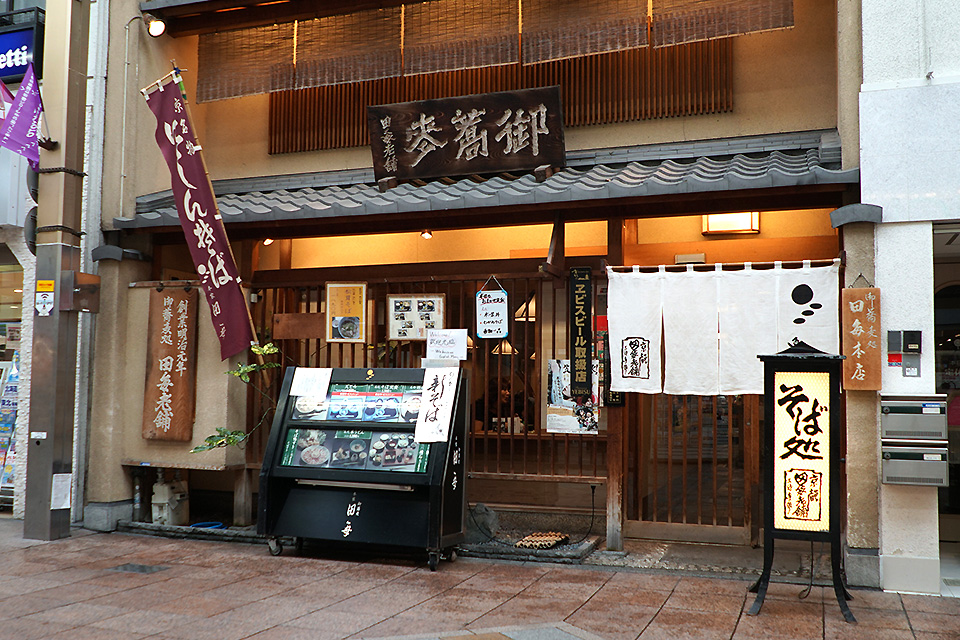 京都市役所近く、新京極通と三条通の交差点にある「本家 田ごと」は、明治元年(1868)年創業の老舗そば屋です。中庭を望む風情あるテーブル席を用意しており、そば料理を楽しむのに最適な環境です。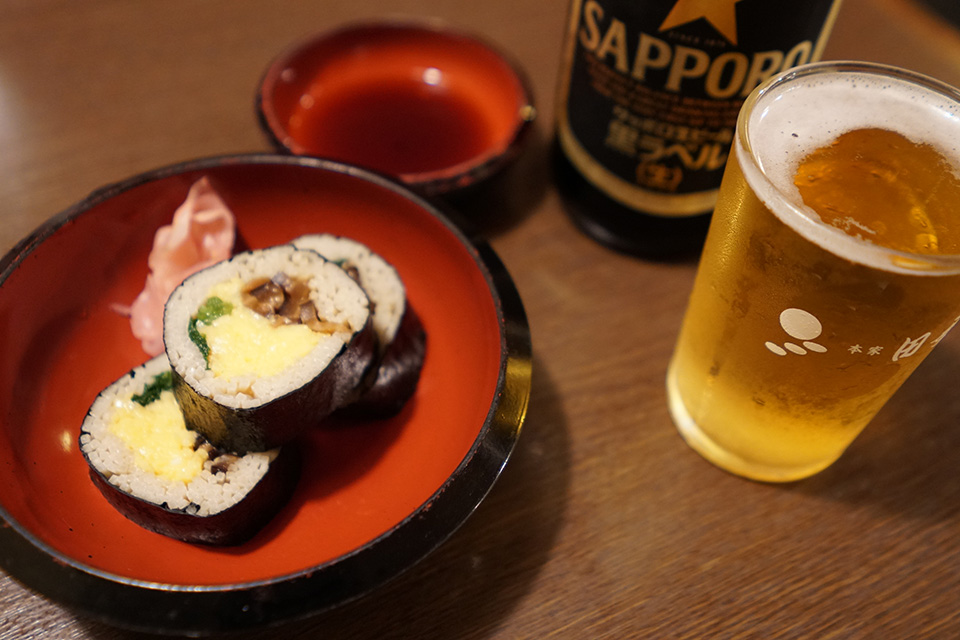 Having a light beer during lunch with someone special? "Honke Tagoto" is just the place for that. Their specialties include homemade duck roast, pickled herring, and soba gaki (a type of soba sushi), making it an excellent accompaniment to your drinks.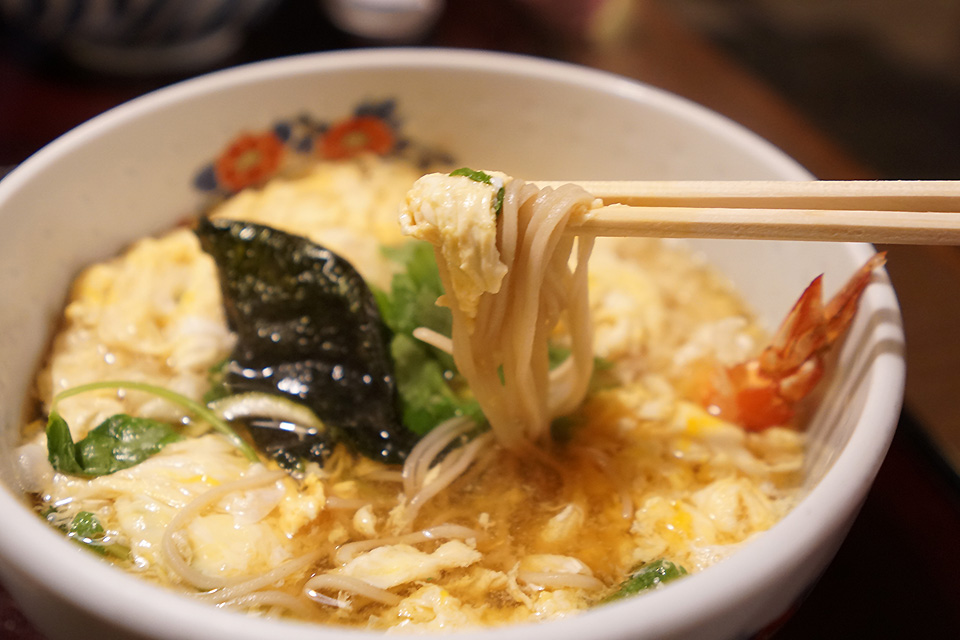 The 6th generation soba chef, who trained in Tokyo, prepares Tokyo-style soba noodles combined with Kansai dashi (broth). Soba enthusiasts should definitely pay attention to their closing soba dish, which is equally delightful.
Address: 12 Ishibashicho, Teramachi Higashi-iru, Sanjo-dori, Nakagyo-ku, Kyoto, Kyoto Prefecture, Japan
Opening Hours: 11:00 AM to 9:00 PM (Open on Sundays)
Regular Holiday: None (Open every day)
Established in 1868
5,"Sushizen" in Karasuma Oike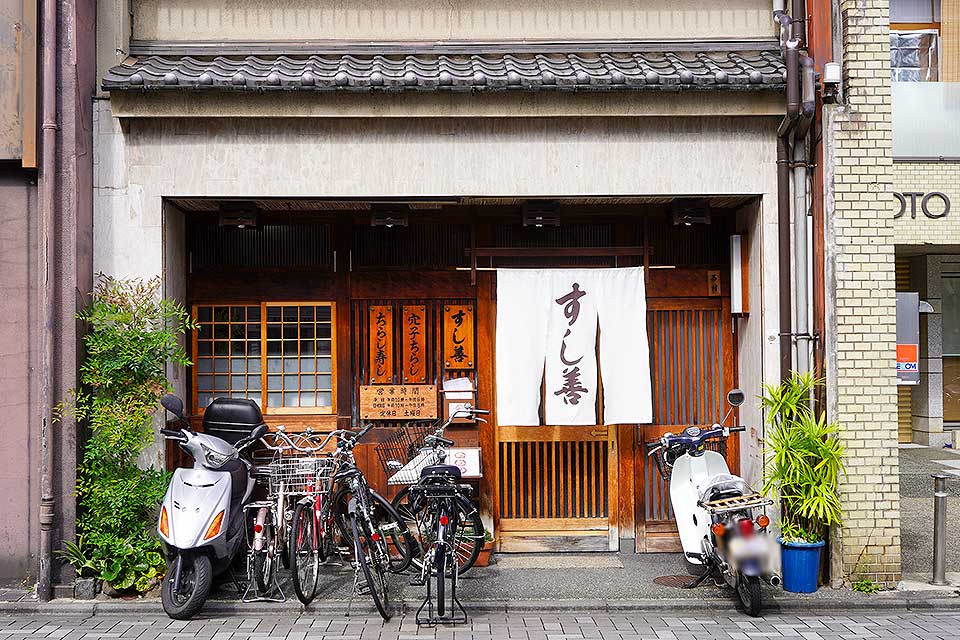 "Sushizen" is a long-established sushi restaurant founded in 1939, where you can enjoy your meal at the counter seats right in front of the skilled chef. Hearing that might make you a bit nervous, but don't worry! Their assorted nigiri sushi and pressed sushi sets are surprisingly affordable, with most sushi dishes priced in the 1,000 yen range.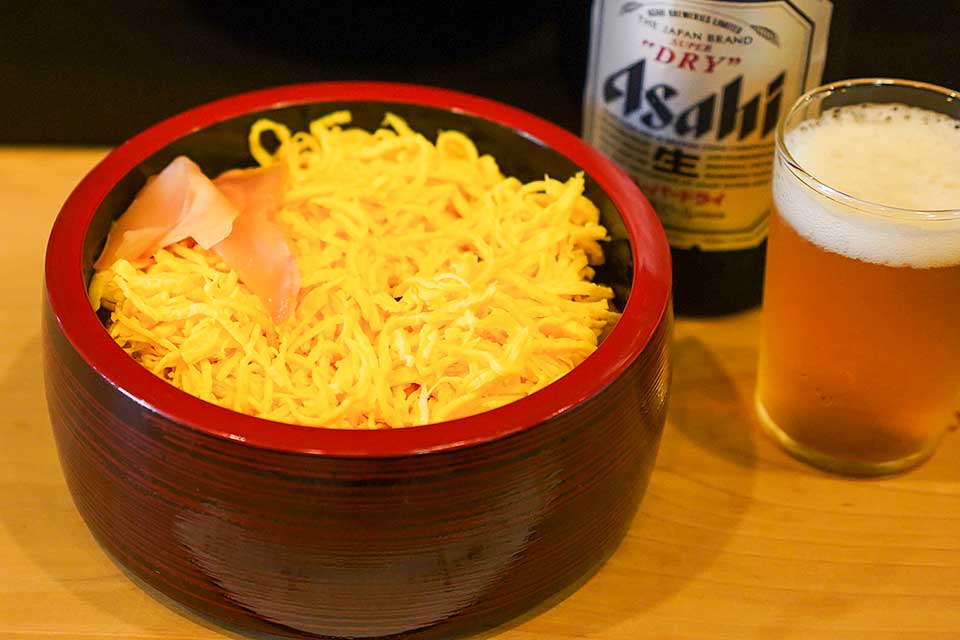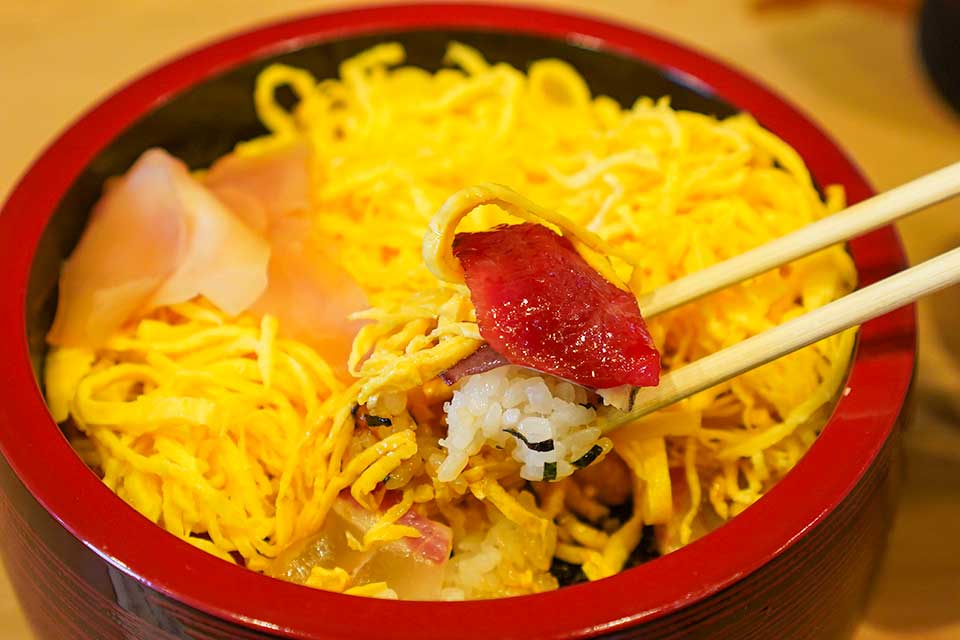 I highly recommend their seafood chirashi, generously topped with layers of seasoned egg and an assortment of tuna, sea bream, and shellfish, exceeding your imagination. The luxurious presentation is truly impressive. The combination of the sweet sauce, fluffy seasoned egg, and the flavor of the vinegared rice will undoubtedly enhance your enjoyment of sake as well.
Address: 41-2 Koromodancho, Shinmachi Higashi-iru, Sanjo-dori, Nakagyo-ku, Kyoto, Kyoto Prefecture, Japan
Opening Hours: 10:00 AM to 6:00 PM (Ends when sold out)
Regular Holidays: Saturdays, Sundays, and Public Holidays
Established in 1939
6,"Chuka no Sakai Honten" in Kitaoji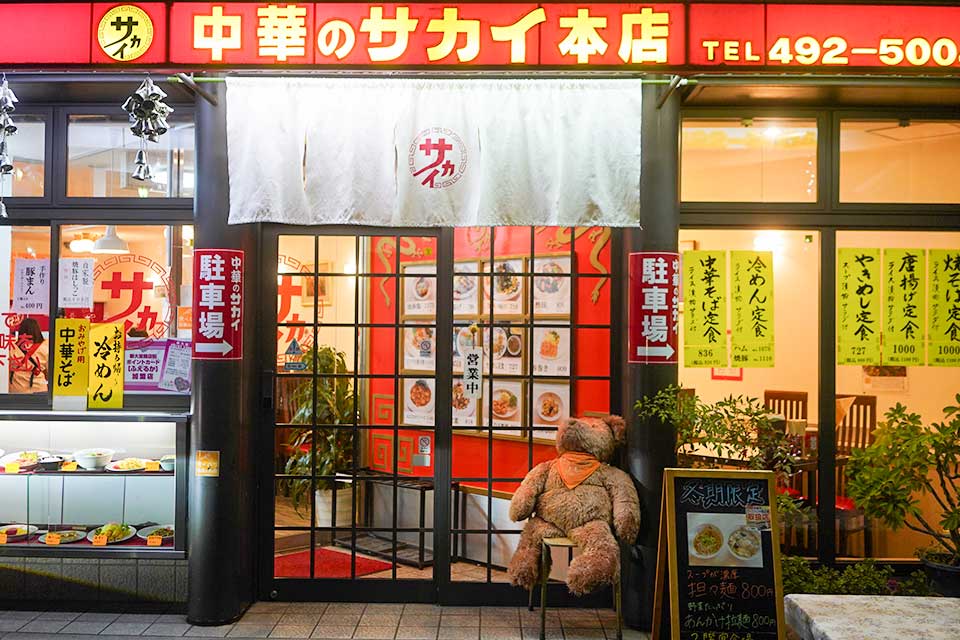 If you're looking for a place to enjoy daytime drinks in Kyoto, "Chuka no Sakai Honten," a popular local Chinese restaurant (a Japanese-evolved version of Chinese cuisine) near Daikakuji Temple and established since 1939, is a must-visit spot. Originally a coffee shop, it gradually transformed into a Western-style eatery before finally evolving into the Chinese restaurant it is today.
Famous for its cold noodles (hiyashi chuka), this place offers an extensive selection of appetizers, allowing you to enjoy a delightful tipsy time with Chinese-style snacks during the day.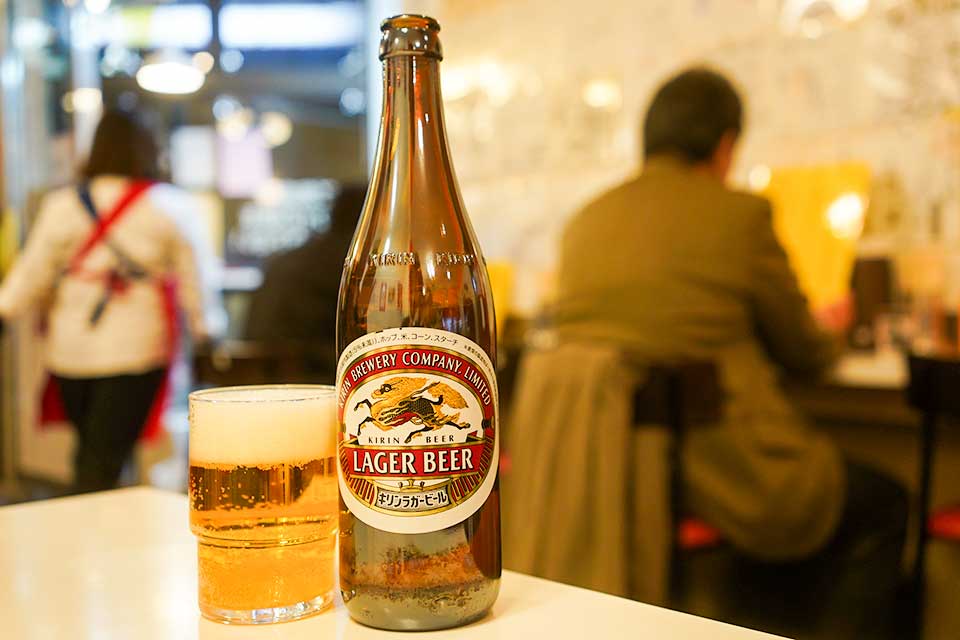 As for drinks, they have not only Kirin Lager Beer and Shaoxing wine but also sake and chuhai (shochu highball), providing a satisfying range of options for those who want to enjoy a proper izakaya experience.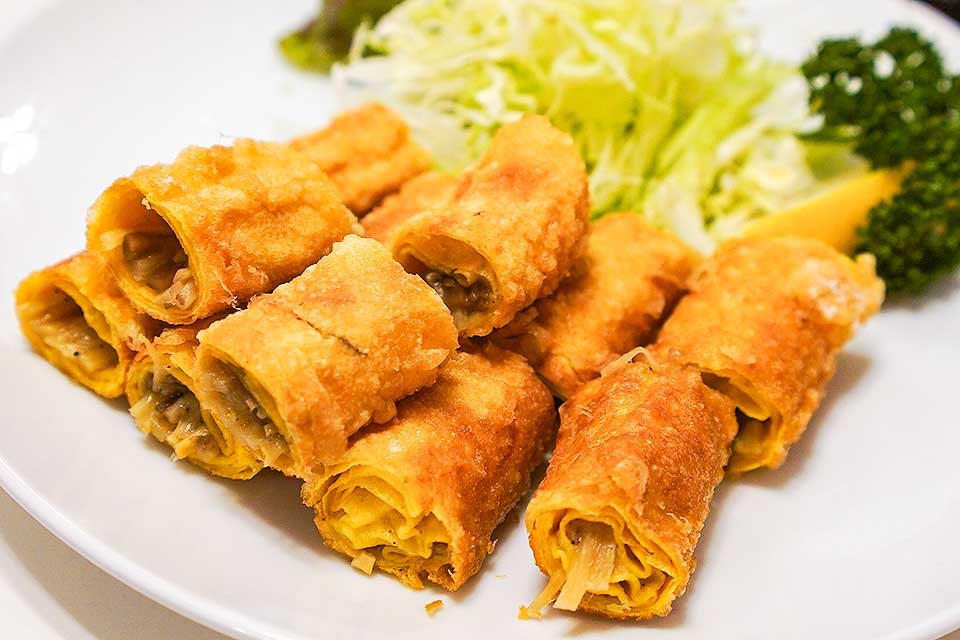 Their spring rolls are highly recommended. Unlike traditional spring roll wrappers, they use thinly cooked eggs as the skin, a unique Kyoto-style spring roll. The contrast between the crispy egg wrapper with a hint of egg flavor and the flavorful bamboo shoots is simply exquisite.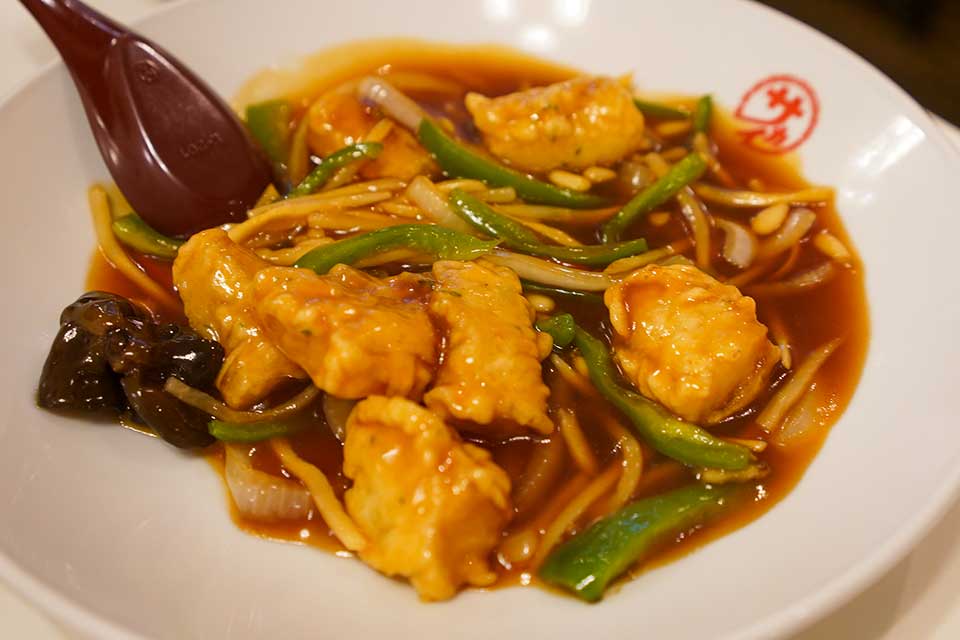 For larger group sharing, their generous dishes like "chinjaoro-su" (stir-fried pork with green peppers), "hoikoro" (sweet and sour pork), and "mabo nasu" (spicy tofu and eggplant) are perfect options, with prices ranging around 1,000 yen, making them an affordable choice to share among 2 to 3 people.
Address: 92 Shimono Kamonmaecho, Kita-ku, Kyoto City, Kyoto Prefecture, Japan (Shin-Omiya Shopping Street)
Opening Hours: 11:00 AM to 4:00 PM, 5:00 PM to 9:00 PM (Last Order until 8:30 PM, Banquets until 8:30 PM)
Regular Holiday: Every Monday (Excluding national holidays)
Established in 1939
7,"Murakami Shokudo" in Umekōji-Kyōtonishi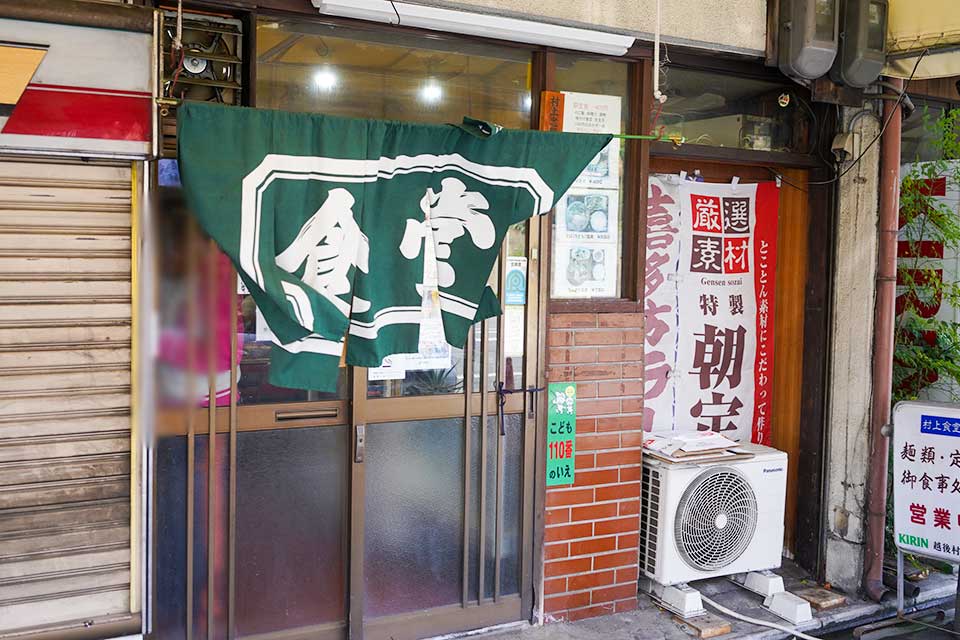 Located near the Kyoto Central Wholesale Market, Murakami Shokudo is a popular diner that opens its doors as early as 5:00 AM. It's not just a place for breakfast and lunch but also a highly recommended spot for daytime drinking.
With over 50 years of history, it's easy to understand why this diner has been beloved for so long as soon as you step inside.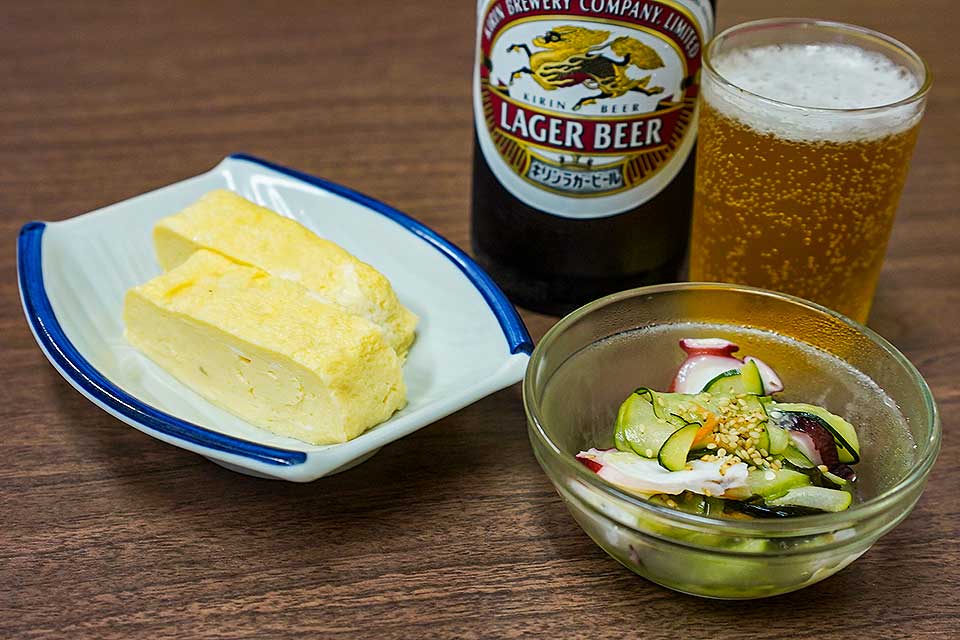 Upon entering, you'll be greeted by a showcase displaying various side dishes. Beyond that, you'll find plywood tables and pipe chairs, with a raised seating area in the back, all expertly managed by the veteran chef.
It's like an oasis where familiar market-goers and taxi drivers take a break, making even first-time visitors feel instantly relaxed.
Choose from the assortment of dishes in the showcase and grab a bottle of chilled beer from the refrigerator, it's self-service! All set and ready to go, let's dig in!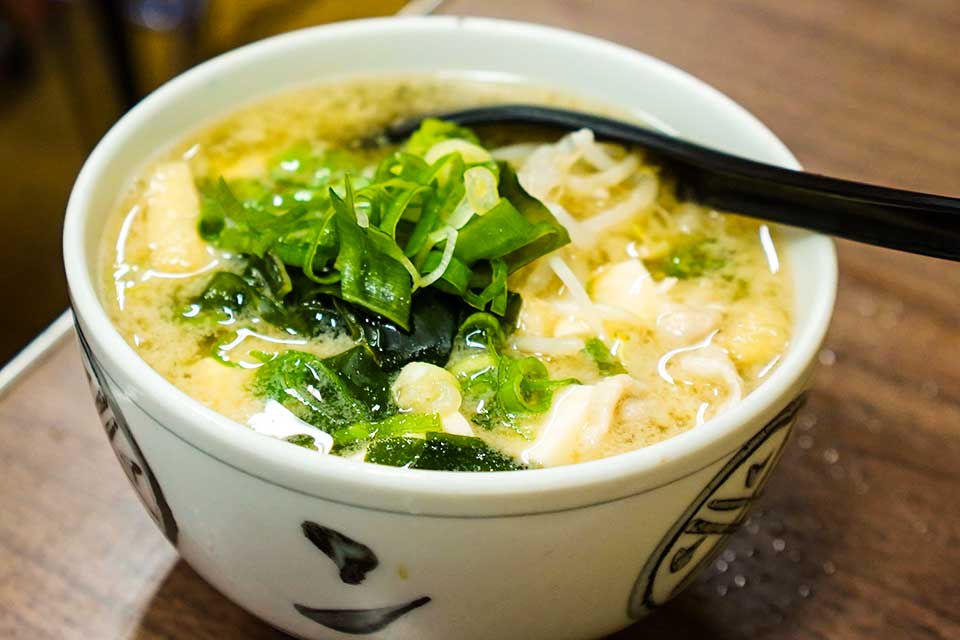 You can enjoy a hearty pork soup with plenty of ingredients or savor seafood dishes like grilled fish, simmered fish, and sashimi, reflecting the eatery's proximity to the market.
肴とビールの組み合わせを楽しむもよし、海鮮料理を堪能するもよし、明るいうちから飲み始めてみてはいかがでしょうか。
Address: 1F Nishishichijo Kitanomachi, Shimogyo-ku, Kyoto City, Kyoto Prefecture, Japan
Opening Hours:

Weekdays: 5:00 AM to 8:00 PM
Public Holidays: 7:30 AM to 2:00 PM

Regular Holiday: Sundays